$29.99 (No longer available)
Description
Edit
The Beta Bundle was available from July 14th 2012 until March 21st, 2013.
If a player owned any of the units or variants in this bundle they would be refunded 50% of the kudos value of the unit or variant, or Diamonds if it was Diamond exclusive.
Get a head start with the AirMech Beta Bundle! Instant access to the AirMech Steam Beta and unlock all AirMech classes and Units, and a ton of other goodies. Silver VIP, XP and Kudos Boosts, an EXCLUSIVE 'Beta' Bomber Variant (skin), and a great selection of other AirMech Variants. Best of all, Beta Bundle owners will continue to receive new content released throughout the Beta, and keep everything after release. No wipes or resets for account data, plus if you are already have an existing AirMech account you can link it to Steam and import all your progress!
The Beta Bundle is only available while Airmech is in Beta! The amount of content included is crazy good, and is a way of offering a special treat to early adopters who are helping Carbon test the game and make it better. Here's exactly what you get: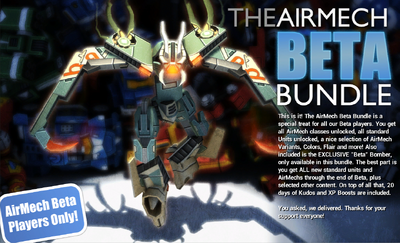 EXCLUSIVE Beta Bomber: Special AirMech Variant only available to Beta Bundle owners.
AirMech Variants (Skins): BlackOps Striker, Tomcat Striker, Apache Helix, Shark Helix, Phantom Bomber, Star Neo, BlackOps Saucer, Nexus Saucer, NVision Osprey, DeepSea Osprey, Pirate Warthog
ALL Units: Soldier, Probe, Longhorn, Seeker, T99, Patcher, Jackal, Armadillo, LunchBox, MoneyMaker, Leveler, Generator, Booster, Bombs, Light Mine, Heavy Mine, Stasis Mine, Runner, SAM, Fixer, Zipper, Tango, Gemini, Ratchet, Bucky, Gatty, Grinder, HAAT, BotSpawner, Arty, Archy, Bertha, Goliath, BearTrap, Lockbox, Safebox, Vaultbox, Honeypot, Boomer, Stasis Mine, Turtle, Aegis, Grinder, Sergeant, Boxer, Leveler, Generator, (if steam version, Sentry Turret )
Flair (Cosmetics): Cyan Tracers, One Ball, Two Ball, (if steam version, Companion Cube)
Army Colors: Blue Lvl1, Red Lvl1, Green Lvl1
Lifetime Silver VIP : +10% Kudos rewards, access to VIP Quests.
20 Days of XP and Kudos Boosts: Bonus 80% to self, +20% other players, stackable!
Ad blocker interference detected!
Wikia is a free-to-use site that makes money from advertising. We have a modified experience for viewers using ad blockers

Wikia is not accessible if you've made further modifications. Remove the custom ad blocker rule(s) and the page will load as expected.