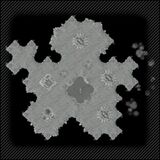 Description
Edit
Destroy 12 is a Challenge which tests a player's ability to destroy units and survive. The player starts out as a Warthog, the aim is to destroy all 18 units. The player can also build units to supplement his attack force.
The Map for Destroy 12 and Capture 11 are identical.
Ad blocker interference detected!
Wikia is a free-to-use site that makes money from advertising. We have a modified experience for viewers using ad blockers

Wikia is not accessible if you've made further modifications. Remove the custom ad blocker rule(s) and the page will load as expected.