Information
Edit
Diamond Bundles are available to buy anytime, unlike Booster Pack. The Diamond Bundle, as the name suggests, boost the amount of Diamonds the player owns for Cosmetics and gives Silver VIP. The Diamond Bundles can be bought as many times as player likes via either PayPal or Steam Purchase.
Descriptions
Edit
The Diamond Bundles have been simplified to give solely Diamonds. You get 2,000 Diamonds for $4.99, and each successive bundle gives bonus Diamonds.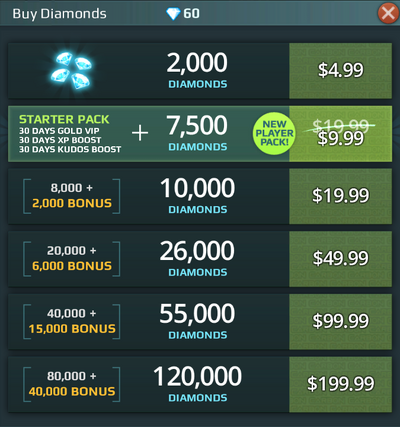 Ad blocker interference detected!
Wikia is a free-to-use site that makes money from advertising. We have a modified experience for viewers using ad blockers

Wikia is not accessible if you've made further modifications. Remove the custom ad blocker rule(s) and the page will load as expected.