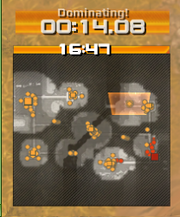 Added in build 23813.0, Domination Damage is designed to replace the old
Overtime
system. While Overtime was added to prevent games dragging on forever, Carbon Games still felt that it wasn't working properly, as it took 25 minutes to trigger. Instead, Domination Damage can be triggered at any time during the game.
How it works
Edit
When one team holds every Outpost on the map, a thirty-second countdown is triggered. When this timer has reached zero, the Fortress of the team with no Outposts begins to take damage. If the losing team doesn't manage to reclaim any Outposts, they will die.
If they do manage to recapture an Outpost, or even turn it neutral, the damage stops and the countdown will start at thirty again if the winning team manages to recapture the Outpost in question. The countdown can be stopped part-way through if an Outpost is turned neutral during the thirty seconds.
The catch: in order to give them a fighting chance, the losing team will, at the end of the thirty seconds, also have their credit income doubled!
Ad blocker interference detected!
Wikia is a free-to-use site that makes money from advertising. We have a modified experience for viewers using ad blockers

Wikia is not accessible if you've made further modifications. Remove the custom ad blocker rule(s) and the page will load as expected.