Description
Edit
Gothic Week was an event that is themed around Wave-Gotik-Treffen. 
There are Skulls like the Silver Skull, Black Skull, Gold Skull, Blue Skull, Red Skull and Pink Skull.
The 2013 event started on May 15th, 2013 and went until May 23rd, 2013.
The 2014 event started on May 25th, 2014 and went until June 3rd, 2014.
The 2015 event started on August 12th, 2015 and went until August --, 2015.
Drops During this event
Edit
Gothic Bundle
Edit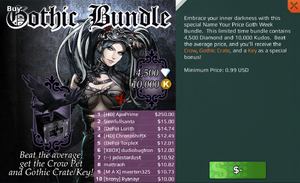 The Gothic Bundle was added during the 2015 event and includes 10,000

and 4,500

. You are able to set your own price above 0.99 USD, but beating the average price allows you to receive a bonus including the Crow, Gothic Crate, and a Key.
Ad blocker interference detected!
Wikia is a free-to-use site that makes money from advertising. We have a modified experience for viewers using ad blockers

Wikia is not accessible if you've made further modifications. Remove the custom ad blocker rule(s) and the page will load as expected.