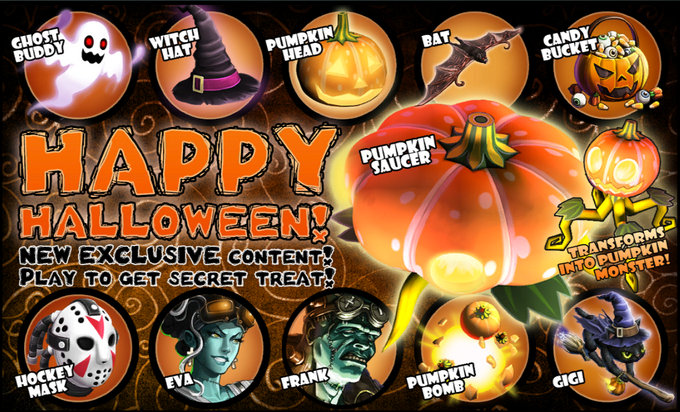 Description
Edit
The Halloween 2012 content was available from October 25th to November 6th, 2012.
The Halloween 2013 content started as early as October 5th and expected to end at November 5th, 2013.
During Halloween 2013 Carbon Games sent players a Halloween Gift Pack, the contents of each varying according to player status, via their registered e-mails at Carbon Games:
Codes sent via e-mails were meant to be valid only until October 31th, 2013, so players were advised to check their e-mail and claim their gift codes before the promotion ended. However, the codes still worked on 2 June 2014, and it is likely they are still valid.
The Pumpkin Badge can be obtained by collecting at least 15 Halloween theme items (out of total 19) listed below, excluding Jack O' Lantern (converted) and the Crates. Read further information at Chat Badges.
Added in 2012
Edit
Added in 2013
Edit
Added in 2014
Ad blocker interference detected!
Wikia is a free-to-use site that makes money from advertising. We have a modified experience for viewers using ad blockers

Wikia is not accessible if you've made further modifications. Remove the custom ad blocker rule(s) and the page will load as expected.