Desciption
Edit
Items are stat modifiers that can be purchased, equipped, and brought into battle.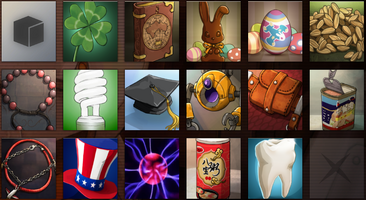 They affect stats such as Unit Cap, auto-repair rate, and AirMech armor. In general, they do not affect stats as much as Pilots. There are currently eleven items always available, eleven available during celebrations, seven various cakes, and four item alternates, making a total of thirty-one items.
Normal Items
Edit
Exclusive/time limited Items
Edit
Cakes (Vanishes after Event Ends)Edit
Item Alternates
Edit
Item alternates normal Items, but with slightly changed stats. They are found in stacks of 3 after a match, and, once you have one stack, you can buy another stack for 800 Kudos, or unlock it permanently for 270 Diamonds.
Consumable Items
Edit
VIP Shop Ticket
Friend Slots: 10
Friend Slots: 25
Friend Slots: 100
Diamond Box
Kudos Ball
Key
Crate 1