Description
Edit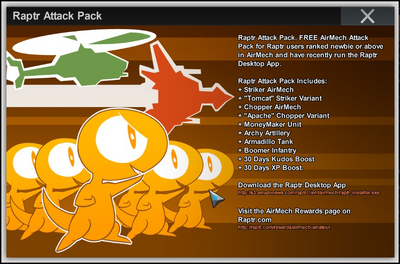 Raptr Attack Pack. FREE AirMech Attack Pack for Raptr users ranked "Newbie" or above in AirMech and have recently run the Raptr Desktop App.
Raptr Attack Pack includes:
There is an associated Quest unlocked by installing the pack, called "AirMech on Raptr".
Information
Edit
This pack has since been discontinued/retired. Raptr Attack Pack is FREE, if the player earns it on Raptr.
To download the Raptr Desktop App http://raptr.com/download
AirMech Rewards page on Raptr.com http://raptr.com/rewards/airmech-amateur
Ad blocker interference detected!
Wikia is a free-to-use site that makes money from advertising. We have a modified experience for viewers using ad blockers

Wikia is not accessible if you've made further modifications. Remove the custom ad blocker rule(s) and the page will load as expected.