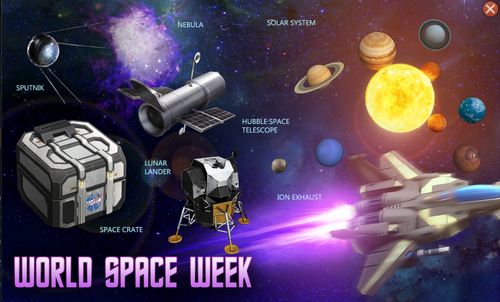 Description
Edit
Space Week is a week-long seasonal exclusive event that features Space-themed pets and cosmetics, as well as an exclusive Space Crate and Base Camp structure, the Space Shuttle, which can be searched during Space Week to discover Space Crates.
The 2015 event started on October 5th, 2015 and went until October 12th, 2015.
Pets: Earth, Jupiter, Mars, Mercury, Neptune, Pluto, Saturn, Uranus, Venus, Shuttle Pet, Hubble Space Telescope, Sputnik, Lunar Lander, Solar System
Flair: Ion Exhaust, Nebula Aura
Crate: Space Crate
Base Camp Structure: Space Shuttle
Drops During this event
Edit
Ad blocker interference detected!
Wikia is a free-to-use site that makes money from advertising. We have a modified experience for viewers using ad blockers

Wikia is not accessible if you've made further modifications. Remove the custom ad blocker rule(s) and the page will load as expected.